Our Services | Tests
Appointments for our services are scheduled with regard to the urgency as determined by the referring doctor and patient. We endeavour to minimise the disruption to patients' schedules, by co-ordinating appointments for the same day, if possible. Ambulatory cardiac services are provided from our private consulting rooms.
Echocardiography
Echocardiography (also called Echo-Doppler or Cardiac Ultrasound) is a diagnostic test that uses high frequency sound waves (ultrasound) to provide an image of the heart. Valuable information about the function of the pumping chambers (ventricles), the heart valves, and blood flow through the heart, is obtained by placing an echo probe onto the chest wall.
Echocardiography may be requested to investigate problems that your doctor thinks could be due to a cardiac condition. Patients with a variety of symptoms might benefit with Echocardiography including: shortness of breath, dizziness and blackouts, chest pain, palpitations, loss of energy. Sometimes, echocardiography is performed to assess a heart murmur or to provide a baseline prior to treatments that might affect the heart (e.g. chemotherapy).
Understanding the testing procedure
The test is performed within our Consulting Rooms and does not require any special preparation. The test takes 30-40 minutes to complete but, sometimes, a longer time might be required. One of our expert Echo Technologists will perform the test and will spend as much time as necessary to acquire the best possible images.
Echocardiography is safe and painless; the ultrasound used during this test has never been shown to have any harmful effects and is perfectly safe for expectant mothers. However, you might experience a small amount of discomfort due to pressing the probe onto your chest. The test is performed with you lying on your left side, on a couch specially designed for this purpose.
Once the images have been acquired, a cardiologist views them and the findings formally reported to your doctor.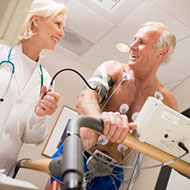 Exercise Stress Test
Exercise Stress Test (also called Stress ECG, or Exercise ECG, or Stress Test) is performed within our Consulting Rooms and is always supervised by a consultant cardiologist.
This test is most often requested to assess people with possible coronary artery disease. An Exercise Stress Test can provide your doctor with valuable information about your symptoms, which may include: chest pain, angina, shortness of breath, exercise-related symptoms.
About the stress test
You will be required to walk on a treadmill whilst your ECG is continuously recorded and your blood pressure is intermittently monitored. The speed and slope of the treadmill is gradually increased, with the test finishing when you feel unable to exercise any further, or if the cardiologist decides it is best to stop.
There is no special preparation required by you, but we recommend that you only have a light meal if the test is being performed soon after eating. You should wear loose fitting clothes and a pair of comfortable walking or running shoes.
The test is generally safe, but you might feel uncomfortable if you are not accustomed to walking on a treadmill.
You might also develop your symptoms during the test, but if this occurs it is important to inform the cardiologist when the discomfort begins. The test takes 20-40 minutes from the time you are set-up to the time you are recovered, but the exercise component varies depending upon your level of fitness.
Holter Monitor
Holter Monitor provides a continuous recording of the heart's electrical activity (electrocardiogram or ECG). This information will assist your doctor to diagnose a number of different problems that might occur due to an altered heart rhythm.
A Holter Monitor may be ordered to investigate symptoms such as; palpitations, a racing heart, dizziness, and black outs (syncope).
The monitor takes about 15-20 minutes to attach and you will be required to return the following day, to our Consulting Rooms, to have it removed and analysed.
Using a Holter Monitor
Monitoring electrodes are placed on your upper body. These electrodes relay the heart's electrical impulses to the portable recorder. Each heartbeat is recorded for the entire period that the Holter Monitor is attached.
Typically, this is for a 24-hour period, but in some circumstances your doctor may request a longer period of recording. The duration of recording will depend upon the particular heart rhythm problem that your doctor is investigating.
After the recording period, you are required to return to our Consulting Rooms at Level 6, St John of God Hospital, to have the device removed. The recording will then be analysed by one of our cardiac technicians and reviewed by a cardiologist. A formal report is sent to your doctor.
Holter Monitor does not usually cause any discomfort. However, some people may develop irritation of the skin where the electrodes are attached with adhesive. You are encouraged to undertake your usual activities during the test, but you should avoid very vigorous exercise so that a clear recording is obtained. Whilst the Holter Monitor is attached, you will not be able to shower or immerse yourself in a bath, so it is best to bathe before your appointment. You should not sleep with an electric blanket during the monitoring, as this may cause a poor quality recording.
ECG (Electrocardiogram)
ECG (Electrocardiogram) is a graphic representation of the electrical activity of the heart.
This is performed for a variety of reasons, especially to provide some clues as to whether you might have a cardiac problem. An ECG might be performed if you have symptoms that your doctor thinks could be heart related, such as chest pain/discomfort, dizziness, black outs, shortness of breath, or lack of exercise capacity. Often, an ECG will be performed before you undergo any major surgery.
The procedure
ECG is performed within our Consulting Rooms and no preparation is required. You will be required to lie on an examination couch and our cardiac technician will then place self-adhesive electrodes across your chest and on your arms and legs. The electrodes are connected to a computer that records your heart's electrical activity at rest.
The test is painless and takes about 10-15 minutes to complete. The ECG is reported by one of our cardiologist and then sent to your doctor.
Ambulatory BP Monitoring
Ambulatory Blood Pressure Monitor (ABPM) allows your doctor to obtain a 24-hour record of your blood pressure (BP) that will assist managing your hypertension.
Sometimes, your doctor may record a high BP reading and not know whether you have established hypertension, or whether the high reading is a normal increase in BP due to anxiety (known as White Coat Hypertension). This test will help determine whether your BP is genuinely high and requiring treatment.
Monitoring your blood pressure
After the monitor is attached, you will be able to do most of your normal daily activities except showering and bathing. Therefore, we recommend that you bathe before your appointment and to wear loose fitting clothing.
The monitor takes about 15-20 minutes to attach and you will be required to return the following day, to our Consulting Rooms, to have it removed and analysed. Once the BP cuff is attached to your upper arm, it is then connected to a digital recorder. The recorder automatically inflates and deflates the BP cuff every 30 minutes during the day and hourly overnight and then stores the recording in its digital memory. When the cuff begins to inflate, you should keep your arms by your sides so that a more accurate reading can be obtained.
After the ABPM has been analysed by a cardiologist, a copy of the report is sent to your doctor.
Unfortunately, Medicare does not offer rebate benefit for this test. However, some Health Insurance policies will refund some of the costs for this test.